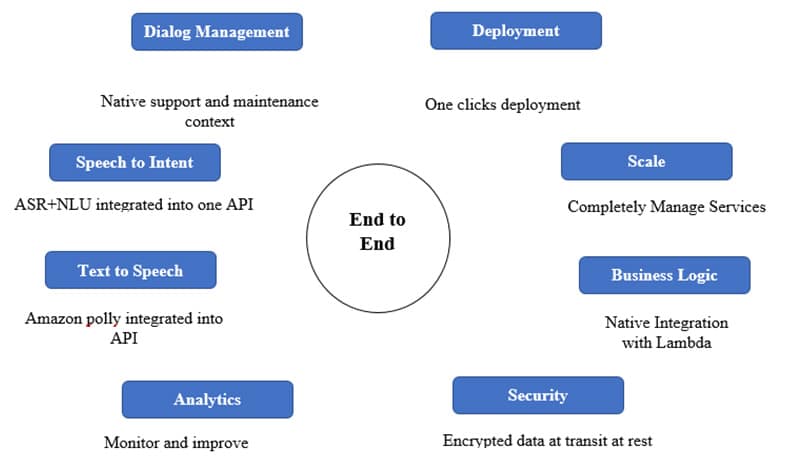 Amazon Lex – Features
Amazon Lex's latest core feature is sentiment analysis, which analyzes a text to understand that text's emotion sends an appropriate response to the user. It is a machine learning-based feature that analyzes the user's emotions like anger, happiness, and sadness. This feature is Amazon's comprehension, a natural language processing service based on machine learning to understand the relationship between textual data and sentiment analysis. Amazon Lex Comprehend can also work for language detection, Topic modeling, and Key phrase extraction.
Here are some points about more features of Amazon Lex to show its essentials for your business:
Text and speech-language understanding: Powered by the same technology as Alexa. Build once and integrate with multiple platforms
Designed for builders: efficient and intuitive tools to build conversation; scale automatically
Enterprise Ready: Scalable, Versioning, and alias support
Continuous Learning: Monitor and improve your bot.
Amazon Lex Customers
The chatbot feature is used by many organizations to uplift their business and boost their sales. It provides SDKs for Android, and IOS, which support speech and text input.
KloudGin
RedAwning
Dynatrace
Rubrik
Astro
Infro
Build fax counts
Kelly Blue Book Bot
NASA
American Heart Association
OhioHealth
Freshdesk
Twilio
How Lex and Connect features are essential for your business?
If your chat can provide solutions for most of your customer's requests, it will save your customers time, save time for waiting on hold while using a chatbot, and spend more time using your products. Moreover, you can integrate your Amazon Lex with your Facebook messenger, kick and Slack.
Improve customer engagement
Streamline operation and improve efficiencies
Lex stores data throughout the conversation
Reduce employee cost
Can be integrated with almost any type of platform
It will provide easy to use the console
Automatic scaling
It will help you to engage your visitors
Integration of Amazon Connect and Lex
Amazon Connect is a cloud-based contact center that provides amazing customer service at a low cost. Besides, Lex provides a conversational interface using voice and text. With Amazon's integration, Lex and Amazon Connect, you can uplift your business services by adding these advanced technologies of Lex's automatic speech recognition (ASR) and natural language processing understanding (NLU). It will provide the best service experience for customers.
Amazon Connect
For further, Amazon Connect is a cloud-based contact center solution that scales to support a business of any size with tools that grow with your needs. It is easy to use and 100% cloud-based.
It has the following features:
Skills-based routing (Automatic call distribution)
Call recording
Real-time and historical analytics
High-quality voice capability
Customer's Challenges
Aging infrastructure:
High upgrade costs
High add-on costs
Minimal innovation
Business funding
New functionality lag
Business Prioritization
This diagram shows the flow of new integration with Amazon Connect, Lex, and Lambda: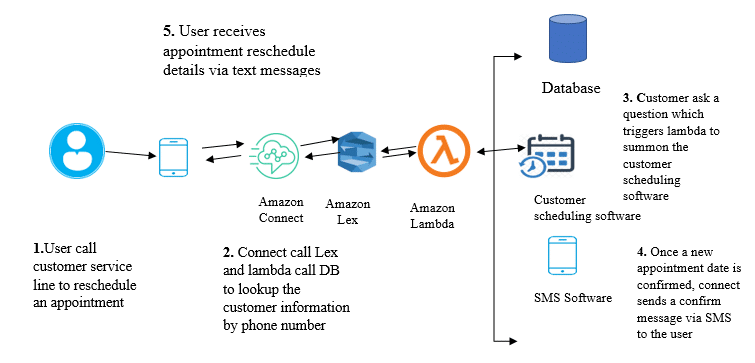 At level 1, users call the customer service line to reschedule an appointment.
At level 2, connect, call Lex service, and Amazon Lex will call lambda, then lambda call to the database to look up the customer information by phone number.
At level 3 customer asks a question, which triggers lambda to summon the customer scheduling software to confirm the customer's new appointment date per the customer's request.
Level 4 shows that Connect sends a confirmation message via SMS to the user using SMS software once an appointment date is confirmed.
At level 5, the user receives appointment rescheduled details via text messages

Author: SVCIT Editorial
Copyright Silicon Valley Cloud IT, LLC.