SVCIT Editorial
Apr 21, 2021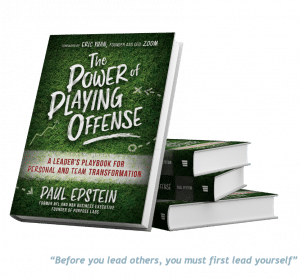 "SVCIT Recommended book to all employees"
Every leader wants their organization to be successful. But there are many definitions of success, such as creating great products, serving customers well, building an inspiring culture, or growth within profitability. Whatever the organizational definition of success is, every individual leaders' responsibility is to achieve it, which begins with a strategic game plan on how to do just that. For any plan, we'll need a playbook, and that is precisely what The Power of Playing Offense by Paul Epstein delivers in this national bestseller and top new release. Positioned as a leader's playbook for personal and team transformation, founded on the premise that "before we lead others, we must first lead ourselves." With this democratization of leadership, we ALL can step into leadership. No rank, role, or title necessary. Just the desire to lead every day, starting by leading ourselves, so we can then most effectively lead others.
"Great leaders pay their dues because they don't want their teams to pay." This is the definition of servant leadership, which is completely aligned with the spirit of this book.
Leaders are the ones who make an organization successful primarily because how they lead is what is going to determine the performance and productivity of the team. Only if the leader is dedicated and accountable to lead by example and be willing to do the gritty work necessary is the winning formula that will ultimately lead to an effective team. A leader must have a vision, courage to take ownership, and nobility in management.
Grow from Purpose to Performance
Here we get inspiration from Paul Epstein's book, The Power of Playing Offense. Paul Epstein is the founder of Purpose Labs; after serving as an executive in the professional sports world for nearly 15 years in the NFL and NBA, coaching business teams through billion-dollar campaigns and breaking multiple Super Bowl revenue records. The secret sauce to this performance? A purpose-driven culture—as he spent his entire career crafting best practices on what he calls a People360 blueprint, leading cultural transformations driven by purpose, performance, and impact—many of which are detailed in this playbook. He now shares his methodology with us all. One that helps business professionals and organizations achieve their goals through an action-oriented mindset of playing offense, where we take intentional steps each day to make a difference and build a legacy we're proud of.
Importance of Strategy for High-Performance Team Culture
"Your title makes you a manager; your people will decide if you are a leader."
– Trillion Dollar Coach of Silicon Valley, Bill Campbell
Strategy is a word that defines how an organization will achieve success, but executing a strategy depends on the organization's culture. A positive and flourishing culture enables the strategy to thrive and sustain. Paul Epstein documents this connection between culture, strategy, and success in his book, The Power of Playing Offense, as he believes that leaders set the tone for culture, culture sets the tone for people, and people drive the performance of our business. It is all connected—and it all starts with leadership.
Who Coaches the Coaches?
The main scintillation is to highlight the perpetual challenge of "who is coaching the coaches?". Paul focuses on this significant point and provides excellent guidance for team leaders.
The Power of Playing Offense gives leaders a clear vision to accomplish their business goals, both internally with their team and externally with the marketplace relative to key stakeholders, brands, culture, products, and ultimately, profitability. It highlights key strategies to build business goodwill and high-trust environments—because, as Paul shares, when you win the inside game with your people, you win the outside game in the market.
In the foreword of the book, the Founder and CEO of ZOOM video communications, Eric Yuan, quotes: "we pride ourselves on a culture of care and are entirely intentional in bringing our culture to life. Paul's authenticity and purpose shined immediately, and his approach meshed perfectly with our philosophy at Zoom: What makes people sense makes business sense."
As Eric Yuan shares in the introduction of The Power of Playing Offense, Paul provides the roadmap to these key, game-changing principles, of which Zoom has blazed a trail for others in Silicon Valley to subscribe to:
Your company culture is the #1 most important thing to get right.
The value of care is at the heart of winning teams and cultures.
Putting people first is not a mantra; it is the foundation of leadership.
Leadership is the engine that drives your organizational growth and potential.
Before leading others, first, lead yourself.
Manager to Leader
In The Power of Playing Offense, bestselling author Paul Epstein designed a roadmap to transform managers into leaders to inspire their followers to manage their real-time issues and conquer their goals. His extraordinary thought for business team managers and leaders is to transform their teams from paycheck-driven to purpose-driven, from adversity to achievement, from disengaged to inspired, and from success to significance.
He observed that people with a playing offense mindset end up on top, and now he invites us all into his world to experience the journey with him, so we can all play more offense in our business, and lives. Join Paul for this inspiring and action-oriented quest of purpose, passion, resilience, and impact. With over 50 activities and exercises included in the playbook, we all have the ability to level up, as leaders of self, and our team.
Meet Paul at the 50, and consider him your coach for the journey.
It's time to play offense!
"When you're inspired with purpose, it's all gas, no brakes,
and it never stops."
PAUL EPSTEIN
To order The Power of Playing Offense, it is available on Amazon now
To contact Paul directly for coaching, consulting, training, or speaking opportunities, email paul@paulepsteinspeaks.com
Author: SVCIT Editorial
Copyright Silicon Valley Cloud IT, LLC.